Evo: 2017 Mirage Hatchback GLS (facelift)
Medyo matagal na ko sa forums pero now ko lang naisipan mag-post ng info about my mirage.
In the following days, I'll be list up the mods I have installed in the past 4 years so don't forget to subscribe to this thread.
I have to mention as early as now that my mods are geared towards the cars handling and safety, which means I have never touched anything yet on the engine nor the exhaust.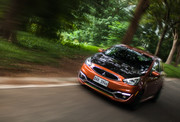 The following 1 user Likes bloodehunter's post:
kirk3724